HD-HYJ Multiple Function Double Wings Sanitary Napkin Machine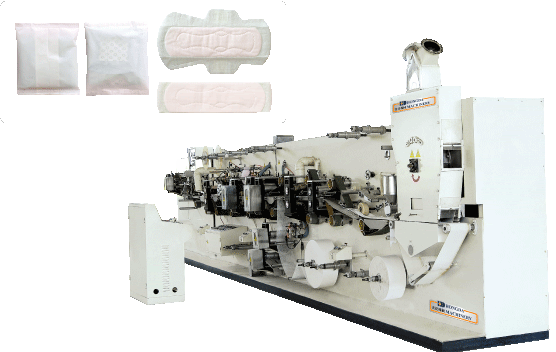 1. Cotton core weight is adjustable by gram.
2.Macromolecule feeder is adjustable by quantity and levels.
3.Mono-axel driven gearbox transmitted by synchronal belt.
4.Performance of inserting chemical cotton sticks wrapped by antiseptic non-woven cloth.
5.Triple layers 3D tilted protection.
6.Dual Conduction Channels device can be used to produce various cotton sticks and tissue sanitary napkins.
7.Electrical speed equalizer/differentiator make synchronal adjustment easy and precisely.
8.Independent Triple Folding Packer is also available on demand.


1.Power: 380V 50Hz
2.Rate Power: 28KW
3.Capability:280 pieces/min
4.Qualification: ≥98%
5.Size (m):12×1.5×2.5(L×W×H)
6.Weight:12T