HD-WSJ Triple Function Equipment: sanitary napkin, baby's napkin and pastes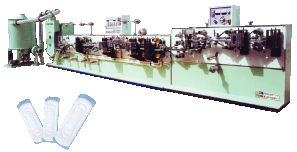 1. Efficient and reliable production of chains transmission.
2. Five-Level gears to five specifications.
3. PE film of U tilt or C tilt as solution to sides leakage.
4. Various design of conduction channels to meet various needs
and easy to replace.
5. Release with macromolecule feeder of chemicals.
6. Dispersing paper cutter and speed equalizer are also available
for easy operation and perfect product quality.
7. Automatic alignment of products for easy packing.
8. Triple Folding Machine is also available for pretty and multiple package of products.


1. Power: 380V 50Hz
2. Rate Power: 16KW
3. Capability: 250-300 pieces/minute
4. Products Specification: 210-320MM
5. Size (m):12×1.2×2 (3D)
6. Qualification: ≥98%
7. Weight: 5T